Easily Manageable Websites
Website Pricing
Each site we build is unique in its own way. Some sites can be built using our base package starting at $1,500, while others with extensive custom programming can cost up to $15,000 or more. Contact us today to see what we can do for your business!
The flexibility of our modular sites means anything you can dream up, we can incorporate into your site. We have worked with large and small organizations to create custom modules to facilitate all aspects of their business.
View Our Portfolio to see some examples of our work.
From our clients . . .
"My experience with Cantrell Solutions has been very positive. They were invaluable to us as they helped in the procurement and implementation of our new, patient-treatment software system. Their knowledge and expertise saved us 20% on the implementation cost. Furthermore, they have continued to provide us with outstanding, prompt, customer support."
Dr. Mark Weems, DDS
Featured Website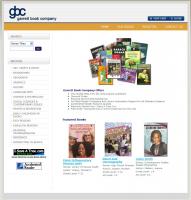 Garrett Book Company
http://garrettbooks.com
This site is a custom site that allows the clients customers and sales representatives to log in and create a reserve list of books. The modules on this site have taken 8-10 days off of the process of ordering books through this company.

Call us today to find out how we can improve your business!
View Web Portfolio >>