Easily Manageable Websites
Website Pricing
Each site we build is unique in its own way. Some sites can be built using our base package starting at $1,500, while others with extensive custom programming can cost up to $15,000 or more. Contact us today to see what we can do for your business!
The flexibility of our modular sites means anything you can dream up, we can incorporate into your site. We have worked with large and small organizations to create custom modules to facilitate all aspects of their business.
View Our Portfolio to see some examples of our work.
From our clients . . .
"Accurate pricing and inventory data mean everything to our convenience store businesses. If our computer system "crashed," it would take months to recover our data without Cantrell Solutions' managed data protection services. With their expertise, reliability and prompt response time, we're able to manage our business, worry free. Thank you, Cantrell Solutions, for providing security and protection of our vital business information."
Ronnie Townsend, Rondale Corp.
Featured Website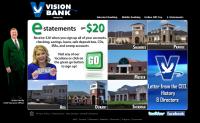 Vision Bank
http://visionbankok.com
This site is a custom site using our multi-level content management system. They have custom modules that allow them to maintain a seperate site with similar content for each market in which they operate.
View Web Portfolio >>