This is a small sample of well over 200 sites that use our content management system.
Call us today to find out what we can do for you!
From our clients . . .
"I have had the pleasure of working with Jake Cantrell, Cantrell Solutions, Inc., for the past five years. The experience has been very rewarding from a professional standpoint. They have always done what they said they would do and they have done it in a timely manner. On more than one occasion, they have saved the day with the managed data protection services which they provide. I would gladly recommend them to anyone and I will continue to value their services."
C. C. Buxton, III, CPA
Featured Website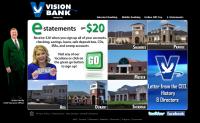 Vision Bank
http://visionbankok.com
This site is a custom site using our multi-level content management system. They have custom modules that allow them to maintain a seperate site with similar content for each market in which they operate.
View Web Portfolio >>