This is a small sample of well over 200 sites that use our content management system.
Call us today to find out what we can do for you!
From our clients . . .
"There are a lot of IT choices in the market. But when we need help on our systems, we need help NOW! The Cantrell Solutions people are not only highly knowledgeable, they are incredibly RESPONSIVE. Two weeks after Cantrell Solutions installed our data protection system, we had a major accounting system crash. We went down at 4pm and by 8am the next morning they had us back up and running. That kind of service is hard to find in the IT world."
Mickey Thompson, Partner-CEO, True Energy Services
Featured Website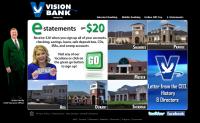 Vision Bank
http://visionbankok.com
This site is a custom site using our multi-level content management system. They have custom modules that allow them to maintain a seperate site with similar content for each market in which they operate.
View Web Portfolio >>