This is a small sample of well over 200 sites that use our content management system.
Call us today to find out what we can do for you!
From our clients . . .
"My experience with Cantrell Solutions has been very positive. They were invaluable to us as they helped in the procurement and implementation of our new, patient-treatment software system. Their knowledge and expertise saved us 20% on the implementation cost. Furthermore, they have continued to provide us with outstanding, prompt, customer support."
Dr. Mark Weems, DDS
Featured Website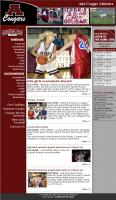 Ada High Athletic Program
http://adacougarsports.com
Custom built from the ground up, this site has many modules.

The administration for the site allows the athletic department to maintain news, staff, roster, schedule, history and media including photos and videos for an unlimited number of sports.

Also included with this site is the ability to stream the audio from football and basketball games through the website.

Call us today to talk about a completely custom solution!
View Web Portfolio >>