This is a small sample of well over 200 sites that use our content management system.
Call us today to find out what we can do for you!
From our clients . . .
"Our commitment to our clients includes managing their patient billing and collection procedures. We help make them more efficient and more profitable. Cantrell Solutions provides us with secure managed data protection so that we donít have to worry about losing all of our data due to theft or a natural disaster. What a relief it is to know that the patient-critical data we manage for our doctors is safe and secure."
Jeri Yates, Keystone Medical Solutions
Featured Website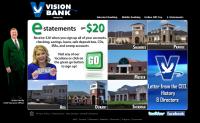 Vision Bank
http://visionbankok.com
This site is a custom site using our multi-level content management system. They have custom modules that allow them to maintain a seperate site with similar content for each market in which they operate.
View Web Portfolio >>