From our clients . . .
"My experience with Cantrell Solutions has been very positive. They were invaluable to us as they helped in the procurement and implementation of our new, patient-treatment software system. Their knowledge and expertise saved us 20% on the implementation cost. Furthermore, they have continued to provide us with outstanding, prompt, customer support."
Dr. Mark Weems, DDS
Featured Website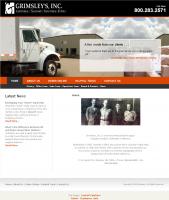 Grimsley's Janitorial
http://grimsleysinc.com
This website uses the standard content management system, with a PDF module and a custom file repository module. The PDF allows the site owner to post PDF files for download on a listed page, while the custom file repository allows the owner to post files that are able to be downloaded from links across the site.

Call us today to find out about our existing and custom modules!
View Web Portfolio >>