From our clients . . .
"Accurate pricing and inventory data mean everything to our convenience store businesses. If our computer system "crashed," it would take months to recover our data without Cantrell Solutions' managed data protection services. With their expertise, reliability and prompt response time, we're able to manage our business, worry free. Thank you, Cantrell Solutions, for providing security and protection of our vital business information."
Ronnie Townsend, Rondale Corp.
Featured Website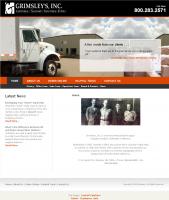 Grimsley's Janitorial
http://grimsleysinc.com
This website uses the standard content management system, with a PDF module and a custom file repository module. The PDF allows the site owner to post PDF files for download on a listed page, while the custom file repository allows the owner to post files that are able to be downloaded from links across the site.

Call us today to find out about our existing and custom modules!
View Web Portfolio >>