Cantrell Solutions Managed Data Protection
The Problem
With many small businesses counting on computers to store important customer data, accounts receivables, family photos, and more, a failed hard drive brings business to a crashing halt. There are many stories of small businesses forced to shut their doors after a natural disaster wiped out their computer systems. Buildings can be rebuilt, computers repurchased, but data is gone forever.
The Solution
Cantrell Solutions offers secure automatic fully managed data protection and storage solutions for small businesses. In the past, data protection was limited to large companies with infinite IT budgets. Now with our service any business of any size can leave the office in the evening knowing that their data is safe.
Are You Prepared for Disaster?
Our custom software will be loaded on each computer that you wish to back up, automatically sending your important information directly to our backup servers in multiple geographic locations.
All your information is securely stored in an encrypted file format. These files can only be accessed using our software with a password known only by you.
Our goal is to ensure the safety and security of your data, enabling you to maintain uninterrupted profitability of your business in the event of a catastrophic data failure or natural disaster.
Prepare for Disaster Now!
Whether it is a hardware failure, fire, flood, tornado, theft or any number of disasters, Cantrell Solutions can reliably and securely protect your business.
Take action now before it is too late.

Call us today
at 1-866-468-3400 to get started.
From our clients . . .
"I have had the pleasure of working with Jake Cantrell, Cantrell Solutions, Inc., for the past five years. The experience has been very rewarding from a professional standpoint. They have always done what they said they would do and they have done it in a timely manner. On more than one occasion, they have saved the day with the managed data protection services which they provide. I would gladly recommend them to anyone and I will continue to value their services."
C. C. Buxton, III, CPA
Featured Website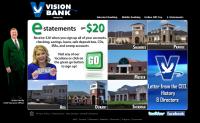 Vision Bank
http://visionbankok.com
This site is a custom site using our multi-level content management system. They have custom modules that allow them to maintain a seperate site with similar content for each market in which they operate.
View Web Portfolio >>