Cantrell Solutions specializes in easy to use self-manageable websites for anyone, from those who are brand-new to computers to those who practically live on their computers — and everyone in between!
Cantrell Solutions also offers secure automatic offsite data backup and storage solutions for small businesses. In the past, offsite data storage was limited to large companies with infinite IT budgets. Now with our service any business of any size can leave the office in the evening knowing that their data is safe.


From our clients . . .
"I have had the pleasure of working with Jake Cantrell, Cantrell Solutions, Inc., for the past five years. The experience has been very rewarding from a professional standpoint. They have always done what they said they would do and they have done it in a timely manner. On more than one occasion, they have saved the day with the managed data protection services which they provide. I would gladly recommend them to anyone and I will continue to value their services."
C. C. Buxton, III, CPA
Featured Website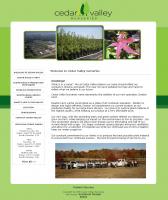 Cedar Valley Nurseries
http://cvnurseries.com
This site uses the standard content management system with custom modules to list all trees and flowers in the nursery, and a custom module allowing wholesale customers to log in to view a catalog with prices.

Call us today for help with your nursery!
View Web Portfolio >>