Cantrell Solutions specializes in easy to use self-manageable websites for anyone, from those who are brand-new to computers to those who practically live on their computers — and everyone in between!
Cantrell Solutions also offers secure automatic offsite data backup and storage solutions for small businesses. In the past, offsite data storage was limited to large companies with infinite IT budgets. Now with our service any business of any size can leave the office in the evening knowing that their data is safe.


From our clients . . .
"Accurate pricing and inventory data mean everything to our convenience store businesses. If our computer system "crashed," it would take months to recover our data without Cantrell Solutions' managed data protection services. With their expertise, reliability and prompt response time, we're able to manage our business, worry free. Thank you, Cantrell Solutions, for providing security and protection of our vital business information."
Ronnie Townsend, Rondale Corp.
Featured Website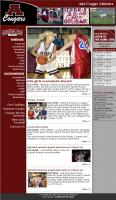 Ada High Athletic Program
http://adacougarsports.com
Custom built from the ground up, this site has many modules.

The administration for the site allows the athletic department to maintain news, staff, roster, schedule, history and media including photos and videos for an unlimited number of sports.

Also included with this site is the ability to stream the audio from football and basketball games through the website.

Call us today to talk about a completely custom solution!
View Web Portfolio >>