Cantrell Solutions specializes in easy to use self-manageable websites for anyone, from those who are brand-new to computers to those who practically live on their computers — and everyone in between!
Cantrell Solutions also offers secure automatic offsite data backup and storage solutions for small businesses. In the past, offsite data storage was limited to large companies with infinite IT budgets. Now with our service any business of any size can leave the office in the evening knowing that their data is safe.


From our clients . . .
"Should a natural disaster occur, like a tornado, lightning or flood, it's comforting to know that all of our vital accounting records and reports are safely secured, offsite. Thank you Cantrell Solutions for providing us with this valuable service and peace of mind."
David Hough, President, HOTCO, Inc.
Featured Website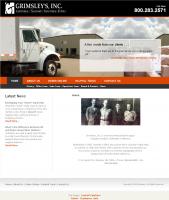 Grimsley's Janitorial
http://grimsleysinc.com
This website uses the standard content management system, with a PDF module and a custom file repository module. The PDF allows the site owner to post PDF files for download on a listed page, while the custom file repository allows the owner to post files that are able to be downloaded from links across the site.

Call us today to find out about our existing and custom modules!
View Web Portfolio >>