Cantrell Solutions specializes in easy to use self-manageable websites for anyone, from those who are brand-new to computers to those who practically live on their computers — and everyone in between!
Cantrell Solutions also offers secure automatic offsite data backup and storage solutions for small businesses. In the past, offsite data storage was limited to large companies with infinite IT budgets. Now with our service any business of any size can leave the office in the evening knowing that their data is safe.


From our clients . . .
"There are a lot of IT choices in the market. But when we need help on our systems, we need help NOW! The Cantrell Solutions people are not only highly knowledgeable, they are incredibly RESPONSIVE. Two weeks after Cantrell Solutions installed our data protection system, we had a major accounting system crash. We went down at 4pm and by 8am the next morning they had us back up and running. That kind of service is hard to find in the IT world."
Mickey Thompson, Partner-CEO, True Energy Services
Featured Website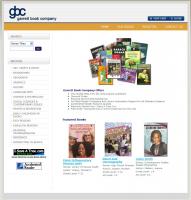 Garrett Book Company
http://garrettbooks.com
This site is a custom site that allows the clients customers and sales representatives to log in and create a reserve list of books. The modules on this site have taken 8-10 days off of the process of ordering books through this company.

Call us today to find out how we can improve your business!
View Web Portfolio >>